God's desire is that we would live a naturally supernatural life. Experiencing the Person, power and presence of the Holy Spirit at work in and through us is for every believer, everyday!
Join us for a Saturday of equipping as we host Gary Heyes for our Hearing God Everyday workshop. The purpose for the workshop is for each person to:
learn how to hear the voice of God and bring that into everyday life
understand how God has empowered and gifted us through His Spirit to impact those around us
be activated in their spiritual gifts and ministered to prophetically
be refreshed and encouraged!
Cost for the day is $12 ($8 for students) and covers all materials as well as lunch. Places are limited so please make sure you register by clicking here.
ABOUT GARY HEYES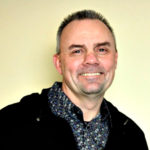 Gary has been involved in ministry for over 30 years, most recently serving as a staff pastor at Living Hope Christian Assembly in Hamilton, Ontario for 16 years.
Gary has a genuine love for people of all ages, preaches with humor, inspiration and a prophetic touch. His desire is to see people come to Christ, encourage leaders and strengthen churches.
He has been married to Sheila since 1985 and has one married son Joshua and daughter-in-law Melissa. He enjoys travelling, golfing, reading and spending time with family & friends.   Take a look at Gary's website.