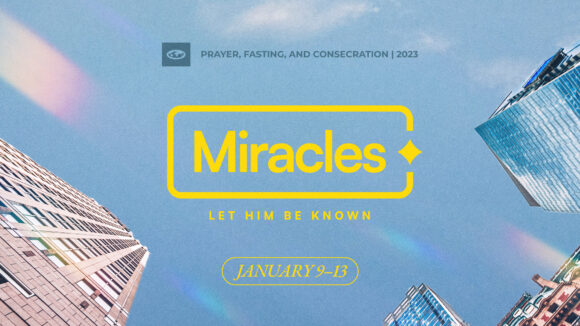 At the start of each year, our global Every Nation family of churches and  campus ministries begin with five days of prayer, fasting and consecration to humble ourselves before God, consecrate ourselves to him for the upcoming year, and agree together for breakthroughs. This year's theme is MIRACLES: Let Him Be Known.
We believe that God works miracles today by the power of the Holy Spirit to bless people and advance his kingdom. In 2023, we are believing God for miracles that will testify to his power and create new opportunities for the gospel to advance.
Below is the prayer schedule and a few helpful resources for the week of prayer and fasting:
PRAYER MEETING SCHEDULE
RESOURCES FOR YOU
Devotional Guides | For some more practical help on fasting and to guide you through the week, download the Devotional Guide (available in multiple translations) and Family Guide.
Every Nation App | 

The 2023 prayer and fasting guide is available on the Every Nation App, which you can find on the

App Store

and

Google Play

.

Website and Devotional Videos | Checkout everynation.org/fasting for more videos and resources.
Miracles Playlist |  Find the Every Nation curated Miracles playlist on Apple Music, Spotify and YouTube.