Fasting is a spiritual tool God uses to advance his kingdom, change the destiny of nations, spark revival, and bring victory in people's lives. Every Nation Churches &  Campus Ministries begins each new year with five days of prayer and fasting to humble ourselves before God, consecrate ourselves to him for the upcoming year, and corporately agree for breakthroughs.
Join our family of Every Nation churches all over the world as we fast and pray. Starting January 8th to the 12th, we will be fasting and praying together using the EN Global Fasting guide. Make sure to pick up your copy of the booklet at the Get Connected table on Sundays. There is also a PDF version available at everynationfast.org/downloads.
Along with daily devotionals, it includes instructions and tips for preparation, fasting itself, and breaking the fast.
Another great way to stay connected during fasting week is to join the conversation on social media. Even if you don't use the devotional, it's encouraging to hear from one another across the globe. Just use #ENfast2018.
We will be praying together as a church throughout the week and in small groups. Join us: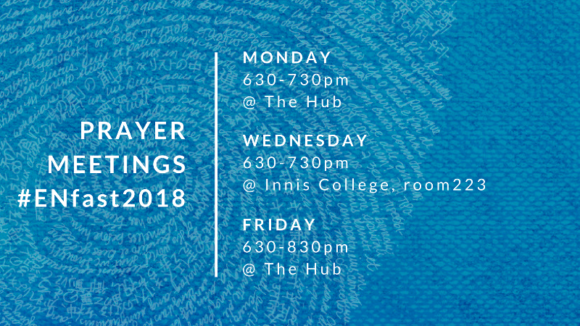 Together, let's press in to knowing God like never before in 2018!
(Note: If you have any medical condition, you should check with your doctor before fasting.)