What would you like to achieve by the age of 100?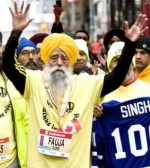 Fauja Singh, at the age of 100, finished Toronto's waterfront marathon in 2011, securing his place in the Guinness World Records as the oldest person – and the first centenarian – to ever accomplish a run of that distance. Singh was the very last person to complete the race, crossing the finish line with a time of 8 hours, 11 minutes and 5.9 seconds. While people were beginning to dismantle the barricades and take down the sponsor banners, Fauja Singh persevered. He made it – much to the delight of a throng of media, family, friends and supporters who were waiting for him at the finish line. His coach exclaimed that Singh, an eight time marathoner, was absolutely overjoyed – "He's achieved his life-long wish."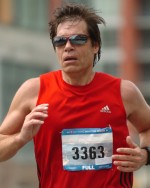 Record numbers of people are entering marathons the world over. Many who never considered themselves capable of running long distances are finding an endurance within themselves they never thought they had. Our own Pastor Bert Thomson, a marathon runner himself, will speak on keys to finding the endurance that God has made available to each one of  us.  Do you have it in you? Come this Sunday and find out. See you@10:30 a.m. at Innis Town Hall.